Mouth-nose protection
Production line for the manufacture of medical masks - a cooperation with our industry partner Bosch Rexroth AG
New challenges - protection of others
The corona crisis causes new challenges for many economies. Current legal decisions require private individuals, and especially employees in craft, trade and industry, to wear suitable mouth-nose protection. Having a duty of care, entrepreneurs are obliged to provide this protection at work. With over 40 million employees even in Germany, this is a major task.
Fully automated production of medical masks for mouth and nose protection
Respiratory masks - along with other hygiene measures - are a suitable means to reduce the risk of new infections with COVID-19. That is why we developed a fully automated system for the production of medical masks within a few weeks. The production line is currently being constructed identically in several Bosch locations worldwide, with the aim of producing more than half a million so-called mouth-nose protection masks of type I / II in accordance with the European standard DIN EN 14683 per day.
The production line in detail - manufacture of medical masks
To manufacture medical masks similar to DIN EN ISO 14683, a three-layer fabric structure is built up and welded, often consisting of polypropylene spunbond and meltblown. A nasal bow wire is usually inserted into these and elastic bands are attached for attachment to the ear. Such masks can be manufactured with our production line.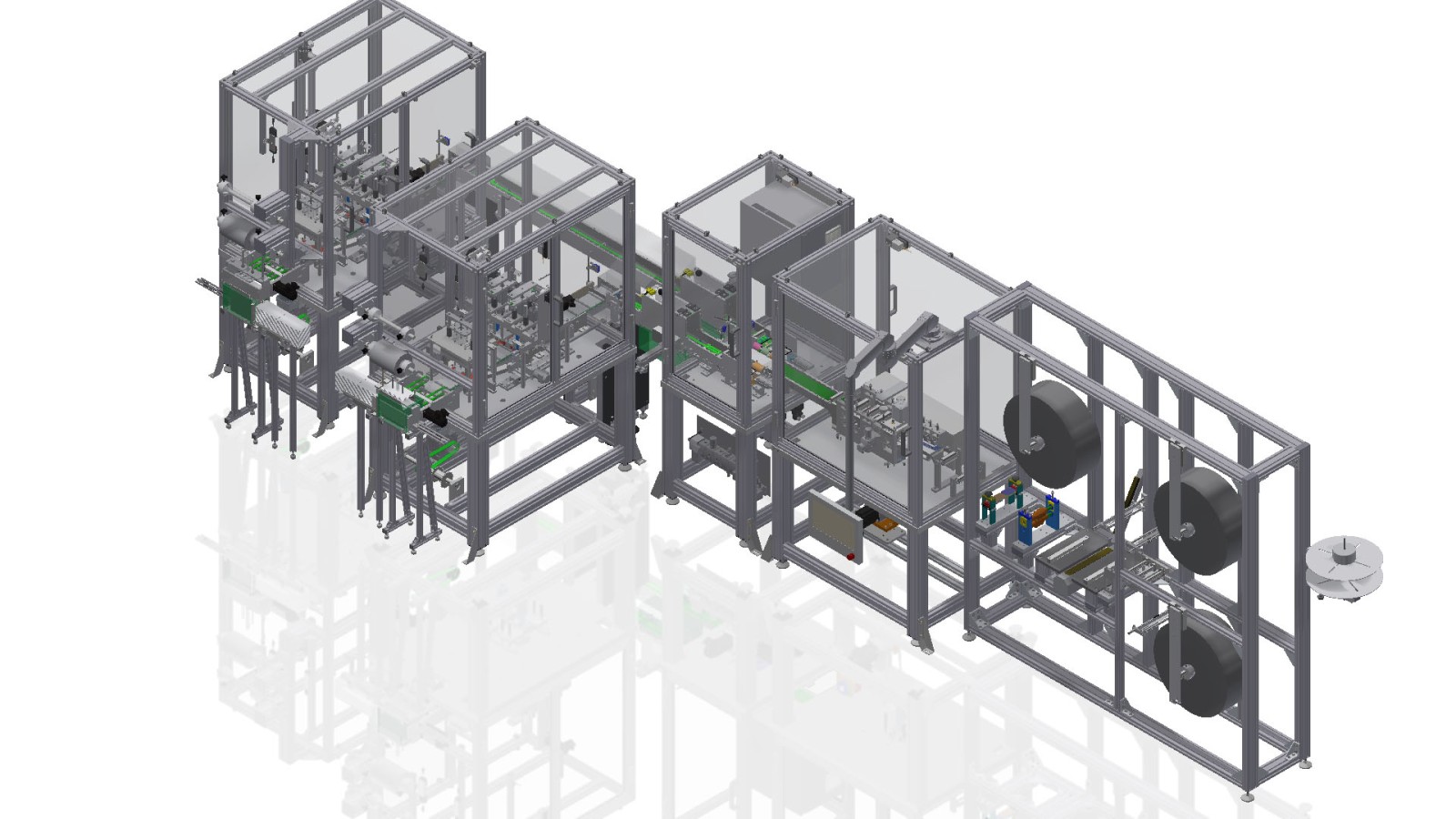 For the actual production of the masks, three different material layers of rolls with suitable drives and motors from the Bosch Rexroth product range are automatically drawn into the machine, folded, welded and cut, i.e. separated. A metal strip is also fed and inserted in the first machine stations so that the mask can be snuggled up to the nose later on. Two further stations take over the feeding and welding of the elastic ear rubbers. The finished masks are output in stacked packages, whereby the stack height can be set a variable number of pieces. Connection to a further packaging unit is possible.
Production line in detail - technical data
Project reference

4702529

Dimensions (L x W x H)
without control cabinets

Around 8.000 x 2.500 x 2.200 mm

Voltage

3 / N / PE AC 400/230 V 50 Hz

Connected load per station (3 stations)

In: 15 A / max. permissible short-circuit current 10 kA fuse 32 A gG

Compressed air

Min. 5 bar

Weight

Stations: 2,500 kg
Control cabinets: 1,300 kg

Cycle time

100-120 parts / minute

Delivery time

Around 14 weeks
Packaging and other infrastructure components
With our system you can produce up to 120 masks per minute. By default, the mask stacks are removed manually. An automated packaging facility is optionally available from our partner Bosch Rexroth, which is recommended from an economic point of view. Further necessary infrastructure, such as a clean room, can also be requested from our industrial partner Bosch Rexroth.