Battery Module Production Line
Webasto relies on Bosch production technology
Batteries are a key technology of the future: they are used in almost all electronic devices - cell phones, laptops, cordless screwdrivers, kitchen appliances, etc. They are a decisive factor for electromobility: Without batteries, the electrification of transport is unthinkable. Demand is rising worldwide. Bosch Manufacturing Solutions has pooled its expertise in mechanical engineering and now offers companies factory equipment for battery production from a single source - from individual components and software solutions to complete assembly lines.
Webasto relies on Bosch Manufacturing Solutions production technology
Webasto is one of the pioneers in the production of battery packs. The company has been involved in the field of electromobility since 2016 and, in addition to high-voltage heaters and charging solutions, is also focusing on battery systems for electrified vehicles. Battery production at the German plant in Schierling is the blueprint for new production facilities, for example in Dangjin, Korea. Bosch supplies automated assembly lines for welding and gluing the battery cells.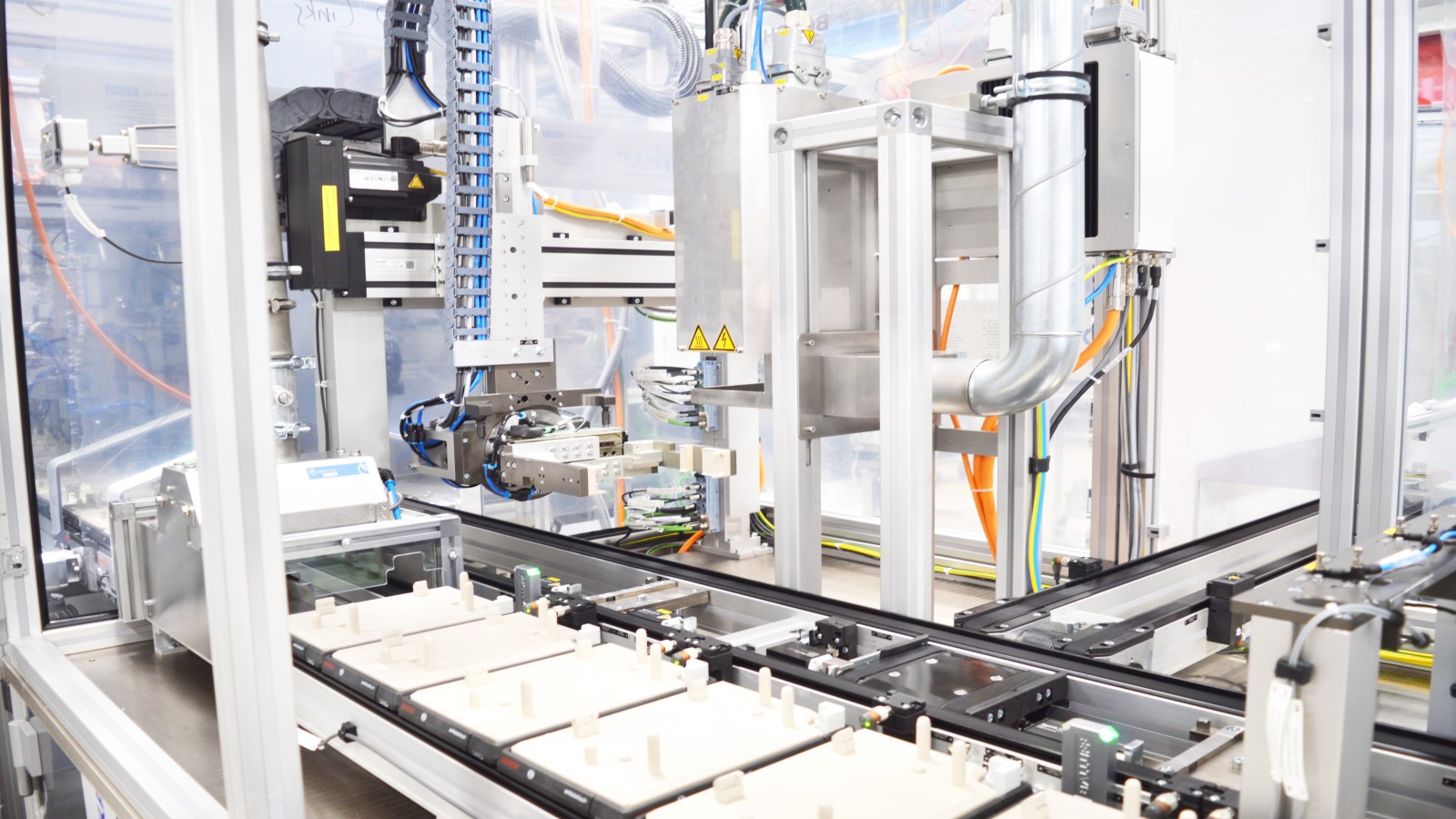 For this purpose, the various functions of module production are combined: from cell cleaning with incoming inspection, the stacking process and a special laser welding process to end-of-line inspection for quality assurance. Thanks to a sophisticated line concept, there is no contamination from particles during processing. The cell stacks are assembled with automated robot handling in a two-stage process, consisting of dispenser technology and laser welding. With a comprehensive safety concept, it is then possible to establish the electrical connection of the battery module using a highly dynamic and precise laser welding process.
Bosch convinces with battery know-how
We also use our own industrial technology in our Bosch plants. The Eisenach plant produces 48-volt batteries for hybridizing cars. In vehicles with internal combustion engines, they ensure fewer emissions, especially in cities, and reduce fuel consumption and CO2 emissions by up to 15 percent. The second generation is now going into series production in Eisenach. During production, over 90 components go through more than 100 process steps. Electric tailwind for bicycles comes from Hungary. Bosch has been manufacturing high-performance e-bike batteries in Miskolc since 2015, which are characterized by a long range and a long service life. Around 20 stations are necessary in production before the batteries, together with the drive and display, form the perfectly coordinated Bosch e-bike system. This includes cell incoming inspection, module and pack assembly as well as the integration of the battery management system. The fully automated on-site production guarantees a high quality standard, maximum battery safety and stable supply chains for the e-bike manufacturers.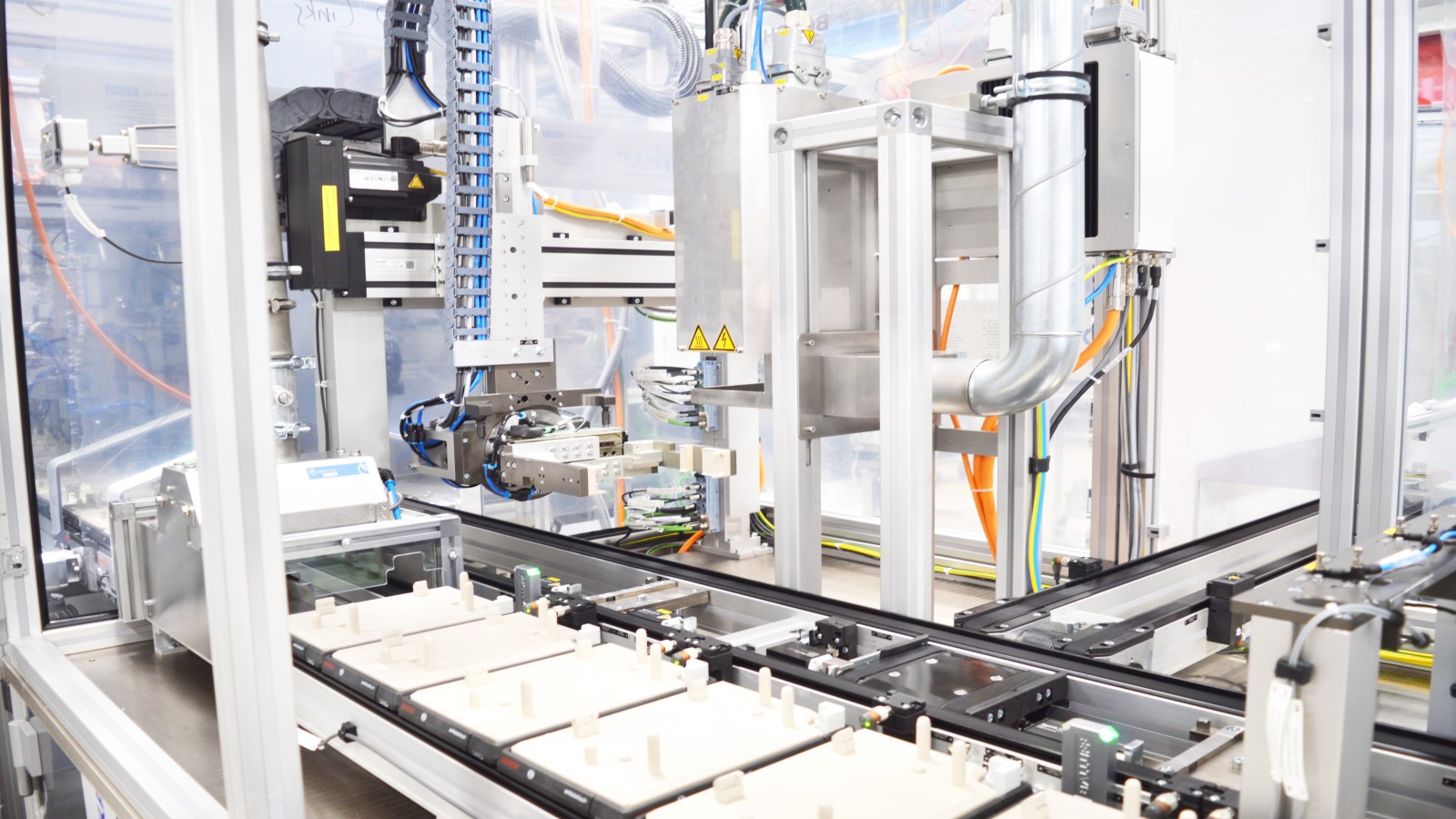 Full-Service for your production
As a leading IoT company and successful machine manufacturer, we offer the opportunity to individually design the factory of the future. To this end, we develop systems, machines, hardware and software for the production of battery modules and packs, which are built from cylindrical, prismatic or pouch cells and used in electric vehicles. Screwing, welding or gluing processes are used to firmly connect the cells to one another. Depending on the requirements, we deliver both partially automated and fully automated lines. Drive and control technologies, intelligently designed manual workstations, production management systems (MES) for production planning and software for networking machines and systems are also part of the portfolio.